The new responsive and cleaner web version of Naver Map for desktops (dubbed v5) left beta status as of October 23, 2019 and has become the default. By the end of December this year, the older version (v4) will be retired and no longer accessible.
Naver Maps (v5) new default homepage
New map tile imagery and UI for Naver Maps v5
Previously accessible only at
beta.map.naver.com
, the new version is now automatically loaded at
map.naver.com
.
The new version is mostly a UI and imagery refreshment, as I haven't noticed many features in the new version that weren't already in the old. Some changes include:
a much improved street-view viewer that also gives you the option of embedding the specific street-view location
the new version doesn't rely on Flash plugins, not for the map tiles or for the streetview
improved skyview (low-flying airplane coverage) navigation
improved time tables for bus/subway directions
weather data, previously available as a one-line condition, now shows on the map and includes fine dust concentrations at sensor points
greater imagery focus on transfer stations and landmarks
This of course follows the
Naver Map app being updated
awhile back with a new imagery style.
No multi-lingual option
One feature that seems to have been left on the chopping block is the teased multi-lingual navigation for this desktop version of Naver Map. I
discussed here
that the beta version had at one times included an option for setting the entire map interface to other languages (Korean, English, Chinese, Japanese), which you could formerly see here:
Naver Map Beta's old language selector
However this seems to have been removed now that the beta version has graduated to full version. I had been keeping an eye on its progresses and noted that the language setting option had moved from the Layers view (as seen above) to the user settings under the "gear" icon but it is now missing from there as well. I would guess Naver decided that foreigner users are mostly going to use the app rather than the desktop version and it wouldn't be worthwhile. Easier to manage translations in an app deployment anyway.
Old version still active (for now)
For nostalgia's sake, here's a quick screenshot of the what the old version (v4) of Naver Maps looked like.
Naver Map, the old version. Fare thee well.
It looked pretty much like this for most of my time here and honestly I still prefer it. It looks and feels somehow more practical to me but I can't stand in the way of everybody adopting that Instagram aesthetic.
For now, you can still access the old version by visiting this special link:
🔗
https://v4.map.naver.com/
But that will only be active until the end of the year. Once 2020 starts, the new map becomes the only supported version. Trying this link will even bring up a countdown warning you about the closure. I took this screenshot a few days ago.
Naver Map (v4) shutdown countdown, urging you to move to the new (v5) version.
Mobile version
I mentioned the app, but if for some reason you don't want to or can't use the app, the
mobile web version
actually works very well too, and can provide directions just like the app can. While it can't be changed to another language, it does seem to understand English spellings of locations though it returns the results in Korean. I
typed "us embassy"
and 주한 미국대사관 was the first result (I clicked it first, thus the search bar got replcaed with 미국대사관.
Mobile web version of Naver Map v5
Map embeds missing
One feature that is missing in the new version is the ability to embed a map in your website. Previously you could embed a Naver Map into your blog or website as a static image of the location on the map and link to the location, but now the sharing option only allows you to copy (or share to SNS) a Naver-shortened link, such as
http://naver.me/xhO6LS7h
.
Previous embeds looked like this, and could only be properly served insecurely (http, not https):
These older embeds seem to work for now, and may still if the v4 domain redirects to the new automatically. We'll have to wait and see. These static images were made by calling this server and requesting a numerical code that cooresponds to the map location, for example:
http://prt.map.naver.com/mashupmap/print?key=p1574999342824_-1000398565
Trying to manually edit the link to https results in something like this:
It could be worthwhile to check this after December 2019 is done. Naver Blogs still include a native way to embed a Naver map in your posts so I'm sure it will still function for those.
In the meantime if you want to embed a map, you can do this with
Kakao Map's desktop version
. The older Daum Maps site was upgraded to Kakao Map earlier this year and functions very similarly and smoothly to Naver. In a way they've pushed each other to improve. Competition means consumers win.
Kakao Map even offers two types of embeds: a mini-map that functions, and a still image.
Here's the normal map embed:
And here's the still image embed: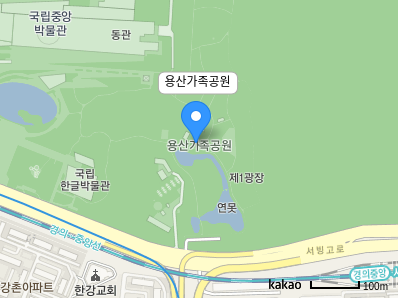 It's great to see these services upgrading their products, and both already offer very good quality English map use in their mobile apps. If you're intersted, see more of this mapping content here:
10원 Tips: maps